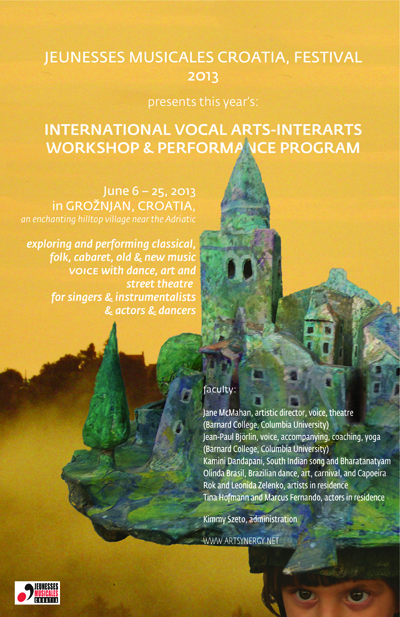 In 2015, the International Vocal Arts Workshop will be in its 8th year. We look back proudly at past seasons of inventive and unusual programs. We have performed in the Kaštel concert hall, at the outdoor medieval Loggia, at the Bastia restaurant, in the garden of Porton Gallery, and memorably in street theatre performances that wound through the cobblestone streets of the village. In Grožnjan, this jewel of a hilltop medieval village overlooking the Adriatic, all things seem possible… and many times they are!
We are proud of our international faculty and students from past seasons, including Igor Paro, Olinda Brasil, Kamini Dandapani, Rique Colon, Hadi Eldebek, Kasia Tercz, Robert Wojciechowski, and many more, and of the creative work they have helped engender. This year we will work more on our own, but we are sure to express the influences we have absorbed. Once again we will turn to the artistic community of Grožnjan for inspiration and energy. We are especially grateful to Jeunesses Musicales for inviting us repeatedly and supporting our efforts.
Shape and Focus of IVAW 2015
This year's program will continue to feature coachings, workshops, a classical music performance, and a cabaret performance, but with a more internal emphasis that is intended to strengthen and free the artistic impulses of the participants. We will accept a small, talented, and congenial group of students who can work well together and live together in the manner of a performing troupe, simply, in a beautiful medieval building with views of the village and the valley. (Audition required.)
Participants are expected to arrive having already learned their material, which will free them to experiment and grow. To enhance their understanding of the music and heighten portrayal of underlying emotions in a way that is authentic, personal, and real, we will explore our work through movement, visual arts, and creative writing. These paths will help us further develop our imaginations, increase emotional depth, and uncover our own original interpretations. And we must not underestimate the ways the beauty of the village and its surroundings will work on us!
For most of us, our work during the year is a mad scurry from one activity to another that obscures so much of what is right in front of us. Our stay in Grožnjan will be very different. We will have time to write in our journals, develop ideas and plans, sketch or paint inspired by natural beauty and by the more abstract feelings and subject matter that flow from our music. We will try to isolate and develop the underlying emotions and motives and characterizations through physical, written, and artistic metaphor. This is a thoughtful time and a time to sensitize ourselves. It is a time to communicate with mentors and co-participants and set free formless thoughts. And even a time to goof and relax. Bring your sketchbook and journal, along with your musical scores and instruments.
Specifics
In addition to individual and group music coachings, students will have workshops in art, inspired by resident artist Rok Zelenko. Jane McMahan, director, will coach voice and interpretation and develop programming. Kimmy Szeto, piano accompanist, will coach musical interpretation and ear training techniques. Resident actors Tina Hoffman and Marcus Fernandez will join us on occasion. We also plan to add an instrumentalist and a jazz pianist to our group.
Docendo discimus — By teaching, we learn.
In the past, our participants have been much more than students. Their talents, interests, and ideas have always helped shape the program. This year we expect several returning students to take a leading role in the program by leading workshops in yoga, dance, and creative writing, and we are always eager to find out what new students have to offer and to help them share it with the rest of us.
Program dates: June 1-10, 2014 (May 31 arrival ; June 11 departure)
Concert of classical music in the Kaštel
Cabaret performance in the village
And there's more:
Going to the beach
Visiting surrounding villages
Walking through the woods on an abandoned rail line
Eating at a restaurant that features local specialties
Wandering through local galleries
Hanging out in village cafes
Workshop Faculty
Contact Information
We hope to learn more about our applicants and answer their questions. Call or email:

Jane McMahan, director: (212) 795-3513, jlyrica(at)gmail.com




To learn about previous programs of the International Vocal Arts Workshop in Grožnjan, Croatia, visit our 2008, 2009, 2010, 2011, and 2013 Workshop homepage.