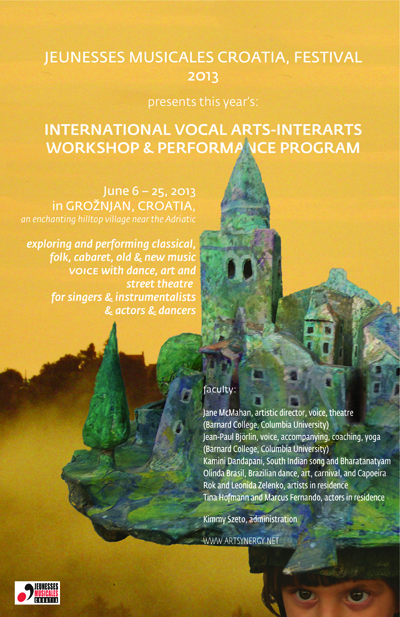 This June, singers, actors, dancers, and instrumentalists will come to the picturesque hilltop village of Grožnjan, Croatia, for the International Vocal Arts Workshop. Now in its seventh season, our program has become an eagerly awaited part of the artistic life of Grožnjan and of the annual Festival sponsored by Jeunesses Musicales Croatia. Memorable past performances have included concerts of classical music, cabaret evenings, and original street theatre pieces that use the cobbled lanes and rugged stone houses of the village as a backdrop. Over the years we have formed strong friendships with the people of Grožnjan, who provide us with a warm and appreciative audience and sometimes collaborate in our performances.
The village of Grožnjan is in Istria, the peninsula that juts into the Adriatic Sea at the northern edge of Croatia. Italy is just a few miles north and Venice a two-hour drive. Photographs can only hint at the magical beauty of the village and its views down onto forests and farms, with the Adriatic in the distance. All cars are kept outside the centuries-old walls. Thanks to Jeunesses Musicales Croatia, our facilities include a modern wood-paneled concert hall in a former castle; a school with three floors of practice rooms and pianos, overlooking the village square and the valley below; a sunny working studio in the middle of town; and small stone buildings for dormitories. Students also feel free to walk down into the valley and find a private spot to practice. Living quarters are simple and comfortable, in keeping with the style of the village. Meals are served at Bastia, the café and restaurant on the village square. The food, served family style, is fresh and plentiful, and a vegetarian choice is always provided.
The free and informal spirit of Grožnjan is a central element of our program. We get a great deal done, surprising even ourselves. We thrive on an unusual creative energy that prevails. The specifics of what we do each summer reflect who the participants are, where their interests and skills lie, what they want to learn and perform, and what they want to contribute. We become a tightly knit troupe in which students and faculty relate on equal terms. The camaraderie that develops, unusual for a summer music program, builds confidence, skills, friendships, and memories to last a lifetime.
Our Program
Our daily meetings include group vocal classes as well as individual vocal work and coaching. We hold master classes and regular rehearsals leading up to our performances. These are led by Jane McMahan and Jean-Paul Bjorlin and incorporate contributions from all the participants. All styles of music are explored. Kamini Dandapani gives classes in Carnatic song and Bharanatyam (South Indian dance), making these art forms accessible to all. Olinda Brasil teaches high energy Brazilian dances, carnival styles, and capoeira. Jean-Paul Bjorlin leads occasional yoga classes, developing balance, breath, and energy, and Olinda leads mask creation and art workshops.
We also work with two actor/directors, Tina Hofman and Marcus Fernando, who have a gallery in the village. Skilled in physical theatre and puppetry as well as traditional theatre, they help us develop the dramatic elements of our performances. Rok Zelenko and Leonida Zelenko, artists who have lived in Grožnjan for decades, help us develop backdrops and scenography. Rok is invaluable to the program, offering organization, inspiration, and art direction. His deep knowledge of the area—he is the author of the leading history of Grožnjan, published in three languages—helps us imbibe the flavor of the village and its surroundings. We eagerly anticipate a final party in Rok and Lea's beautiful walled garden, surrounded by works of art and strange artifacts and permeated by the scent of an open wood fire.
Since the inception of the workshop, a day has been devoted to a symposium in which students, performers, and scholars have presented papers and discussions around a chosen theme of interest to us. This year's symposium is entitled Playing in Time: Temporality in Performance and Performing Arts. We are currently accepting proposals. Visit the Symposium page for more details.
Projects
Program dates: June 6-25, 2013 (Flexible 7 to 20 days)
group concert in the Kastel featuring solo and group performances of a wide range of music
Portraits: a solo performance
site-specific performance, coinciding with the summer solstice, of music and dance
street theatre performance entitled "Midsummer Visions" to take place in Zavrsje, a neighboring village that is part of the commune of Grožnjan
This year we hope to involve a group of young children from Grožnjan in our outdoor performances.
Our program is called International for a reason. Our faculty members come from the U.S., Sweden, India, Brazil, Croatia, Slovenia, and England, and we attract a varied student body as well. In our daily interactions, working, performing, and living together, we show the possibilities of cooperation across cultures. Both our performances and our own experiences are much the richer for it. This season we invite participants to contribute music and dance from a variety of cultures. This will provide important materials with which we build our celebratory site-specific performance on June 21 and our street theatre event, "Midsummer Visions."
Workshop Faculty
Contact Information
We hope to learn more about our applicants and answer their questions. Call or email:

Jane McMahan, director: (212) 795-3513, jlyrica(at)gmail.com
Kamini Dandapani: (212) 683-2117, dandapanis(at)gmail.com



To learn about previous programs of the International Vocal Arts Workshop in Grožnjan, Croatia, visit our 2008, 2009, 2010, and 2011 Workshop homepage.